6 Proven Strategies for Building Backlinks For Your Blog in 2021
One of the most important concepts in the quest for ranking higher on search engines is the concept of backlinks. It is a concept which, when mastered and properly implemented, can help your Blog climb up the scale in the Search Engines Results Pages (SERPs). In this post, we take a comprehensive look at backlinking, what it is, why it is important, and how it can help take your blog(s) to the next level. 
What Are Backlinks? 
Essentially, backlinks — also called inbound links, one-way links, or incoming links — are links from one website that appear on a website (or blog). When clicked, these links have the primary function of taking the reader to their source webpage. 

Major search engines (including Google) consider backlinks as 'votes' for a specific webpage. These votes can accumulate, and pages with more backlinks tend to rank high in organic search engine rankings. 
The portion of the image below in the red box is an example of a backlink from Forbes to another website (Backlinko). 


Because the specified link above points directly to a specific webpage, it is a "backlink". When organic search engine rankings are computed, the number of these links on that webpage helps determine how high that page will rank. 
Why Are Backlinks Important?
As earlier mentioned, search engines consider backlinks as votes from other websites. Basically, these votes tell the search engines that the content on that webpage is valuable, useful, and most importantly, credible. Therefore the more of these endorsements you get from other websites, the higher your blog will rank on search engines.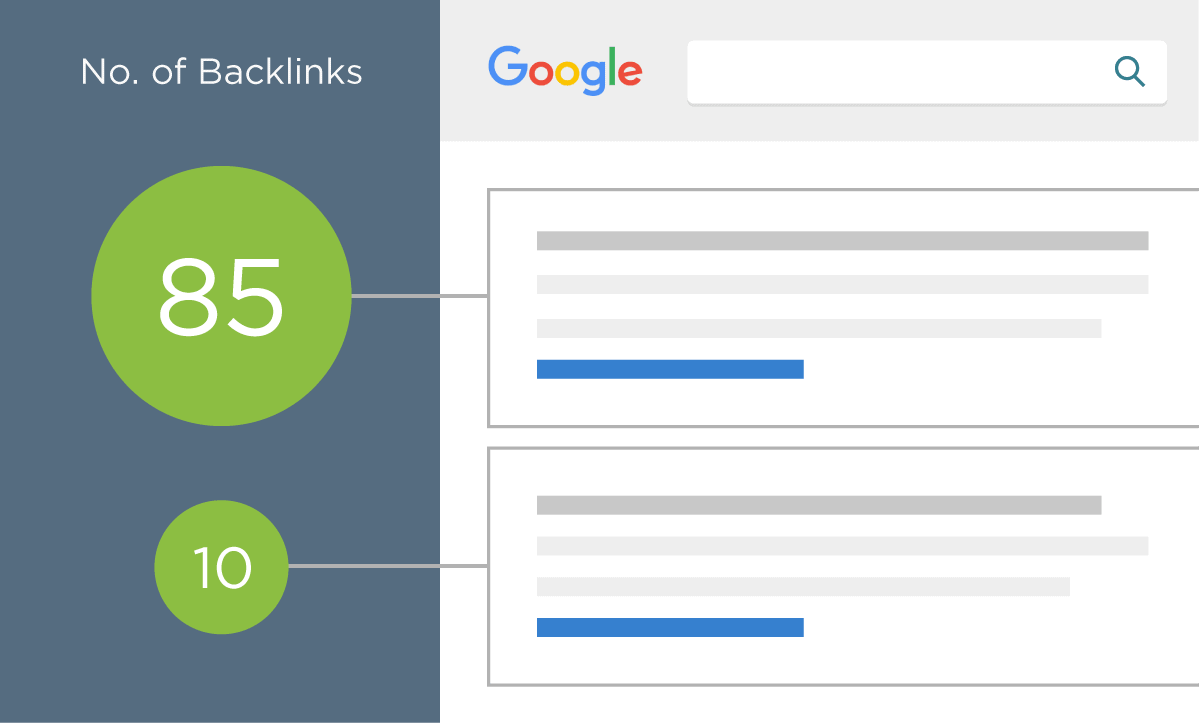 Backlinks formed the bedrock of Google's original ranking algorithm — known as PageRank — which uses a set of metrics to calculate search engine rankings. Although Google has changed thousands of things with its algorithm since then, Backlinks remain very key in the ranking system.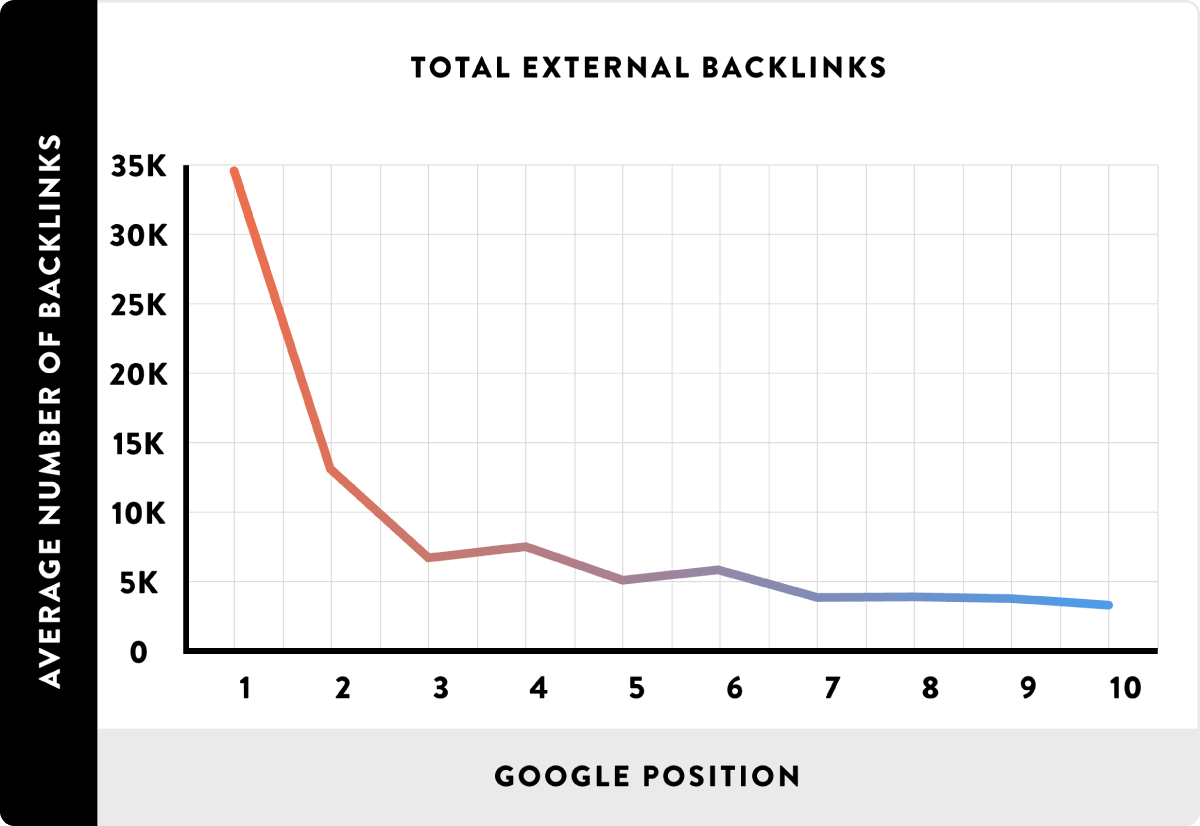 For example, this study shows that despite the changes to Google's algorithm, backlinks remain Google's key ranking metric. This study has been corroborated by Google itself, which confirmed backlinks to be one of its top three ranking factors. Needless to say, ignore backlinks at your blog's peril. 
Understanding how backlinks work and their importance is necessary, but understanding what types of backlinks are valuable is even more vital for you in your quest to get the best out of them. In the next section, we discuss which types of backlinks are valuable.
What Types of Backlinks are Valuable? 
Not all backlinks are equal. Some were created more powerful than others. In other words, your blog's chances of ranking higher on the SERPs are enhanced by using quality backlinks. 
As it turns out, there are certain key traits that make quality backlinks stand out. Some of them include: 
#1: They Come From Credible, Authoritative Websites
It's simple: the search engines trust certain websites more than others and will rank your blog higher if you've got backlinks from more credible websites. For instance, Google will rank a blog or website that can get backlinks from Cambridge higher than one which can only get from a random guy's website. 
This concept of using credible, authoritative websites as a yardstick is called 'Domain Authority.' Domain authority simply implies that the more authority a website has, the more authority it can confer on yours via its backlinks. 
This concept is known as "Domain Authority". Essentially, the more authority a site has, the more authority it can pass on to your site (via a link). Although it might be difficult to get a backlink from an authoritative website, it is absolutely worth it. 
#2: Your Primary Keyword Is Present In The Link's Anchor Text
The anchor text of a link is the visible text portion of a link. In general, SEO best practices require that you have an anchor text that includes your target keyword. In fact, this recent study concluded that there is a greater likelihood to rank higher for a keyword-rich anchor text.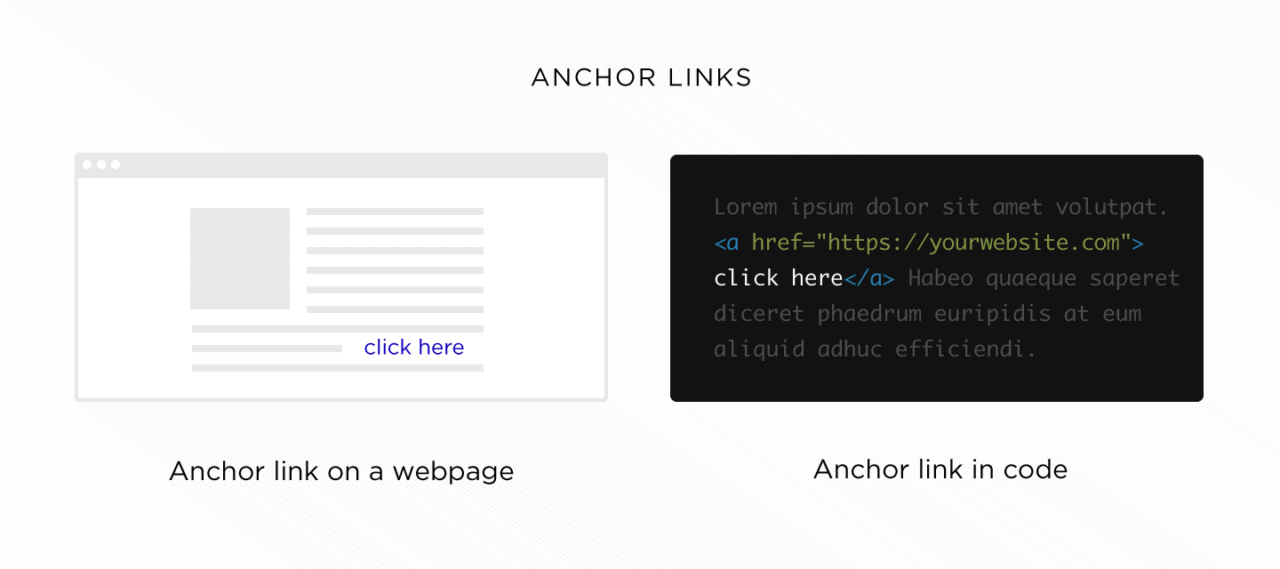 However, you want to be careful around anchor texts. Google's algorithm has a filter known as "Google Penguin" which filters out websites or blogs that go overboard with keyword-rich anchor text.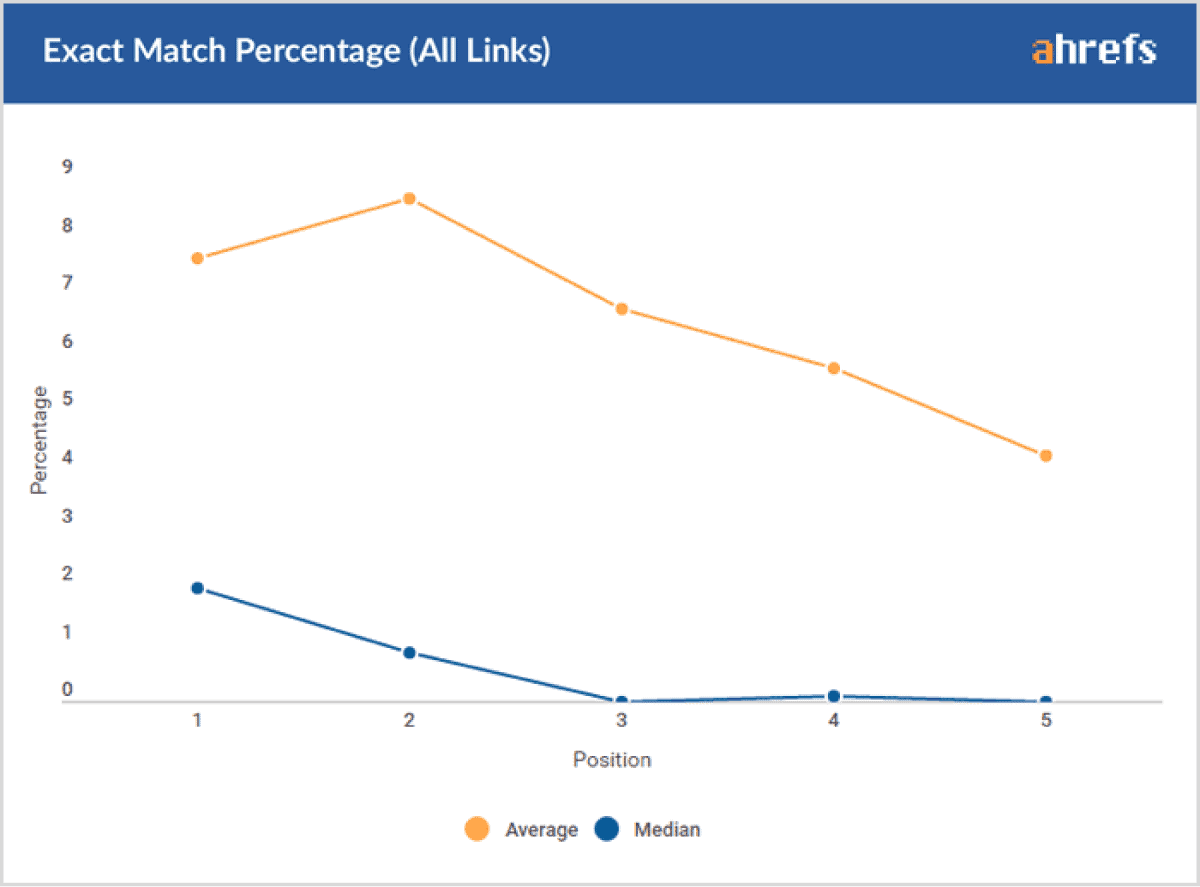 #3: The WebPage Linking to You Bears Similar Topical Content With Your Site 
One key requirement for Google to regard a backlink as a quality one is that when a web page links to another webpage, Google wants to see that the two websites (which bear the webpages) are similar in the kinds of content they put out. 
When you think about this, it makes total sense: if your blog puts out content about fitness and exercise, Google ascribes much more importance to links from sites about healthcare, running, exercise, etc, rather than, say, a website which talks about brewing coffee. 
This makes sense if you think about it:
Imagine you just published an article about running a marathon.
In that case, Google will put MUCH more weight on links from sites about marathons, running, fitness vs. sites about fishing, unicycles, and digital marketing.
#4: The Link Comes From a New Domain
Another trait of quality backlinks is that they come from a domain that has never linked to your blog or website before. For instance, if you get a backlink from Cambridge University the first time, great. If you get another link, and another, and another, the weight of the subsequent links diminishes. 
Alternatively, you can look at it this way: getting 50 links from 50 different websites works better than 100 links from one or two websites. 
6 PROVEN Strategies For Getting Awesome Backlinks
Having given a firm background to backlinks and what they are about, let's discuss 7 strategies that you can use to build great backlinks for your blog or site. 
#1. Scale The Skyscraper Technique
This is hands-down the most effective strategy for building awesome backlinks. What's more, it is a super easy strategy that boils down to doing three things really well: 
Find a popular piece of content in your niche. Hint: popular = lots of backlinks.
Make something even better.
Promote it!
Having said that, here are a few tips to get the best out of this strategy.
Find Popular Content
To do this, simply search Google for a popular keyword in your niche, and find out which topics are best for attracting the best links. To do this, you'll need either an Ahrefs, Moz, or Majestic account. 
Ahrefs and other link analysis tools have a report called "Best by links". This report shows you the pages that are most linked to on any site. So you can simply plug in a competitor's website, get their most popular pages, and you're good to go. 
Make Something (a LOT) Better
After finding a page to scrape, the next step is to create something a lot better than what's there. The key to doing this is to work out what's missing and fill in the gaps where necessary. A few things you can add are: 
Details about the topic. Cover EVERYTHING. 
If the ranking page is heavy, you can do one better by including lots of high-quality images to make it more aesthetically pleasing and visually appealing. 
Where possible, add a video. 
#2. Obtain Links From News Sites and Blogs
This is another great way to get backlinks for your own blog. Helping A Reporter Out (HARO) is a timeless strategy that works wonders for getting backlinks from reputable websites. If there is an important or breaking news relating to your niche, it presents a great opportunity to pick up links and mentions. 
To fully maximize this strategy, here are a few things to do: 
Monitor the news for mentions related to your site's main topics
An easy way to do that is to set up a Google alert.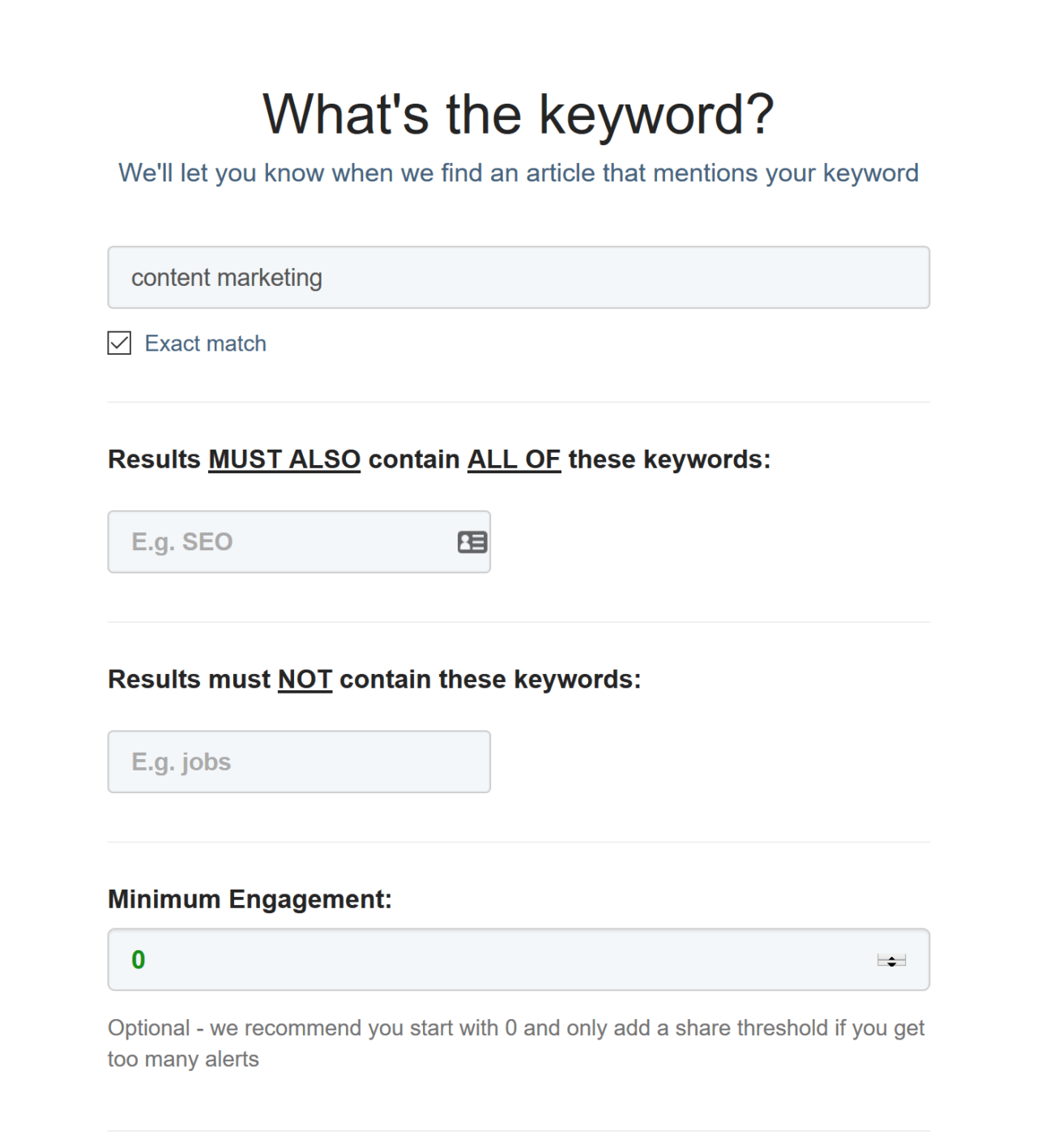 Reach out to reporters with added VALUE
If you intend to get a backlink from a credible news site, you will have to put in some work.
You have to provide real value to the reporter by providing information that makes their reporting easier. 
Here are some ideas you could use to provide valuable information:
Give them personal insight that relates to your industry. While at it, ensure that you know what you're talking about. Include your credentials too.
Offer unique data related to the news (or insight).
Create an infographic or visual that gives more relevance to the story. Ask if they can embed it in their story. 
However you go about it, you MUST act FAST, because today's newspaper is tomorrow's refuse. 
#3. Effective Content Formats
When it comes to creating blog or website content, there are a few PROVEN formats that will help you garner backlinks. Some of these formats are: 
List Posts
Quizzes
Posts that answer the question "Why?" 
Guide (or "How to") Posts
Infographics
Embedded Videos
These formats have proven over the years to be the ones that people love to link to. However, different niches require different formats. Work out what's best for yours and stick to it. Where possible, combine these formats for best results. 
#4. Build Links Through Podcasts
Appearing on leading podcasts in any niche is a great way to increase traffic — and backlinks — to any website. The logic is simple, really: average enthusiasts, fellow bloggers, as well as key industry figures listen in to get the latest information about that industry. If you can show that you know what you're talking about and have valuable, unique information on your site voila! The links will come rolling in.
For instance, going on Sway to talk about everything technology will get you more quality backlinks if you have some valuable stuff on your site. 
#5. Name Your Strategies
Whenever you use strategies for whatever you do, giving them unique names attracts backlinks as it gives you a sort of "authority" on the matter. Dean Jones of Backlinko.com coined a name for "The Skyscraper Technique" and he gets backlinks to the webpage that discusses it till today.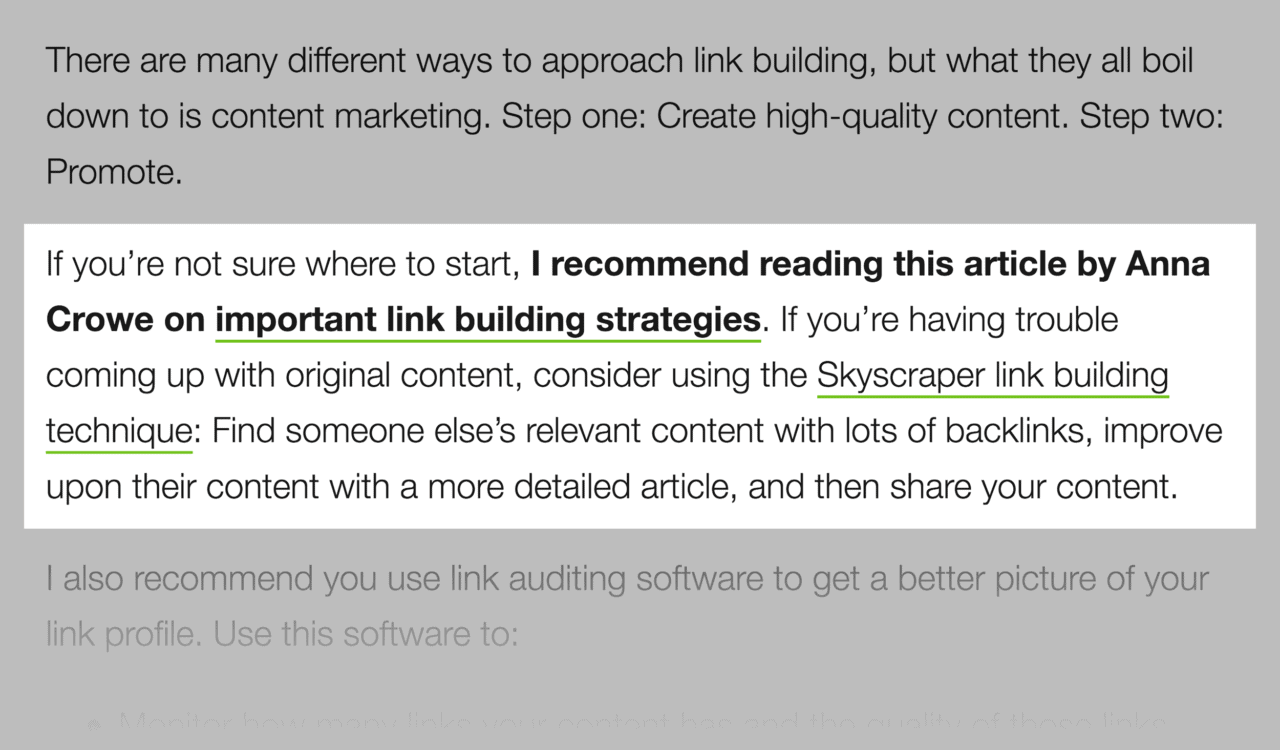 To effectively utilize this strategy, all you have to do is:
Figure out a strategy that is unique to your niche or business.
Give it a fancy name.
Write about it. 
Writing about your strategy is the most important step to getting backlinks because without that, you get no backlinks. 
Naming your strategy is important, but what's more important is: 
Proving that your strategy is SUPER useful.
Proving that it works when applied. 
#6. Ethically Spy on Your Competitors
This strategy works best if you have tried other strategies and the results aren't forthcoming. Getting to know about your competitors' organic strategy and the exact kind of content they publish helps.
 You can ethically spy on them to get sources for backlinks, look at their top-performing content, organic keywords, and more. To do this, you can use tools like SEMrush. SEMrush provides a comprehensive backlink register of any website you input. All you need to do is to go to Backlink Analytics in the SEMrush dashboard and then enter the competitor's domain. Click Check it, and select backlinks. The drop-down menu provides a list of domains from where your competitor gets its backlinks from.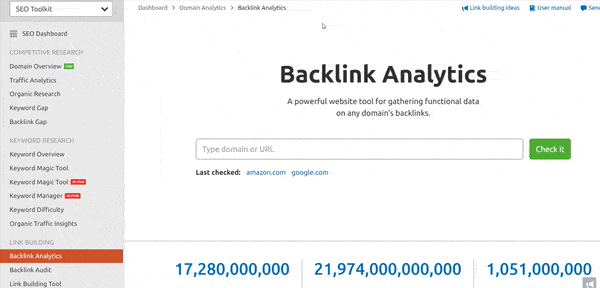 To look for backlinks, you can use SEO tools like SEMrush. It provides a complete backlink profile of any website you enter. To view the backlinks in SEMrush, go to Backlink Analytics from the left panel and then enter your competitor's domain.
You can use this information to get backlinks for your website. For example, if your competitor has a backlink from signing up to a forum, you can also sign up to that forum. If they obtain backlinks from a guest post, you can also publish them on the website to generate links. 
---
Subscribe to our newsletter here.